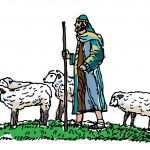 Monday June 25, 2018 Text: Isaiah 40:9-11 Speaker: Pastor David Ude / Pastor Matthew Ude Festival: Trinity Tags: father / good shepherd / husband / man / manliness Passages: Isaiah 40:9-11
Our Lord is strong and gentle, humble and exalted, died and lives, He is in all things the Good Shepherd.
Read More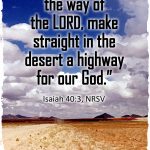 Monday December 11, 2017 Text: Isaiah 40:1-11 Speaker: Pastor Matthew Ude Festival: Advent Tags: advent / comfort / isaiah / prepare Passages: Isaiah 40:1-11
Verses 1,2 The Lord is coming to visit us with great gifts. Verses 3-5 We would surely be embarrassed for a King to see our house as it is, so naturally we must prepare for His coming. This preparation means getting rid of anything that might block His way. Verses 9-11 But we don't want to prepare only our own house, but let everyone know.
Read More